All you need to about Peru:
When you choose to volunteer in Peru you travel to in the San Martín region, which is situated in the North of Perú. San Martín has an area of 51,000 km2
and has around 900,000 inhabitants. San Martín shares a border in the north and east with Loreto, in the south with Huánoco and in the west with La Libertad and Amazonas. Volunteers get to work in Nueva Union which is about an hour's drive from Tarapoto the biggest city near Nuevo Union.
Peru is located on the west coast of South America. Territory-wise, it is the third largest country in South America. In the north Peru's borderlines are shared with Ecuador and Colombia, in the east with Brazil and Bolivia, in the south with Chile and the entire west coast consists of the Pacific Ocean. Geographically, we can divide Peru into three regions: a narrow strip of about 100 kilometers of desert along the coast, to the east the Andes, after the Himalayas, the second largest mountain range in the world, situated between 3000 and 4000 meters and finally the huge Amazon with its rainforests.
 
Before the arrival of the Spanish conquerors, Peru was the empire of the Incas, of which Cuzco was the capital. Between the conquest by the Spaniards in 1572 and the independence in 1821, the country was governed by Spain.
 
The ancient Inca settlement Machu Picchu is just one of the many highlights that the country has to offer. The mix of ancient civilizations, a rich history, extraordinary landscapes, … There are only a few destinations that have as much to offer to its visitors as Peru.
 
From mountain range to jungle, from beach to desert, from colonial city to cosmopolitan city, it is truly a beautiful place to visit.
 
The real appeal of the country lies outside the capital. Before the current capital Lima, we had the ancient capital of Cusco. The center of the world in the time of the Incas, with its winding cobbled streets and more than 1000 years of history. It is the gateway to Machu Picchu and also an ideal base for those who want to explore the Inca trail.
 
Elsewhere in the country you will find the Nazca lines, the beautifully excavated ruins of Chan Chan and the Chachapoya Fort. These extraordinary complexes are all surrounded by beautiful landscapes.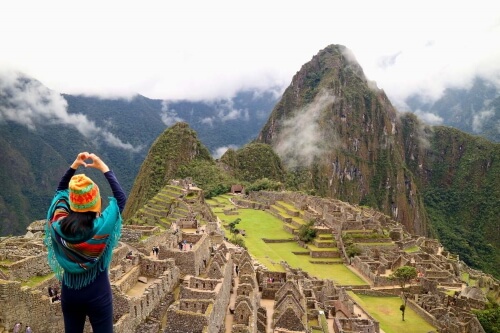 Nueva Unión, is a bit more than an hour by car from Tarapoto. Apart from the last bit between the small town of Picota and Nueva Unión, the road is quite well maintained and runs almost parallel to the Huallaga river. Nueva Unión is a small settlement with around 400 inhabitants.
What do volunteers do? 
As a volunteer you will work in the community center with 72 children with ages between 3 & 19 years.
During the holiday period, which falls in January and February, we are looking for a playground workers  who can keep the children busy in a useful way during this holiday period. This can range from sports and games to crafts and even basic English initiation. Due to the large age difference, it is best to work in groups in order to adapt to the possibilities of each age category.

During the school year you not only do activities with the children for a few hours a day, but also to help them with their homework. Another possibility for example, is that the volunteer stays on the project from Wednesday to Sunday and takes Monday and Tuesday off during the school year. This is done in consultation with the mentor and the local managers.

The volunteer can also do activities with the mothers during the school year, such as cooking, baking and making handicrafts, of course to the extent that the volunteer finds his way in this.

We have a well-equipped library on the mezzanine of our center where the children can not only read quietly, but can also do their homework. The volunteer can also do activities with the mothers during the school year, such as cooking, baking and making handicrafts, of course to the extent that the volunteer finds his way in this.
There is also a playground that is well maintained and where there are many opportunities for sports and games.
Requirements:
The volunteer is supposed to have a good experience in organizing sports and games, crafts. Someone with a background in the boy scouts, for example, but also people who follow or have kindergarten or primary school training.
In addition to a good knowledge of Spanish, it is recommended to have a good basic knowledge of English in order to be able to teach English to the older children.
Typical day:
This depends on the period of the year. You discuss it with your mentor and the local managers. You have plenty of freedom to organize a variety of activities.
Minimum: 2 weeks
Scheme: year round
Maximum number of volunteers at the same time: 2
Isabel is the coordinator of our project. She is the first contact person of the volunteers and will welcome them at the airport of Tarapota. 
She also guides the volunteers from Tarapota to Nueva Unión and discusses the planning with the people in charge of the village.
Tatiana is secretary of the parents' association and responsible for the daily operation and maintenance of the center.
During your week (5 nights), the volunteer stays in Nueva Unión. More specifically in the "library" of the center (see pictures at the projects chapter). A few air mattresses are provided here.
There are fans for cooling and the building has good toilets and a shower. There is no hot water but that is absolutely unnecessary because of the comfortable climate.
There is a well-equipped kitchen that also has a large fridge where you can store your personal drinks and snacks.
Sheets, pillows and mosquito nets are available.
No washing machine available, not even in the entire village. Clothing is washed by hand. But you can also do this (or have it done) during your days off in Tarapoto where everything is available.
Tarapoto (weekends / days off)
During the days off (2 per week), the volunteer stays in a hostel (Hostal in Spanish) which we collaborate with in Tarapoto (60 km from Nueva Unión).
You can have your laundry done in Tarapoto.
Here the volunteer has his own room with air conditioning and a bathroom.
In Nueva Unión: All meals are included during the working days. The mothers from the parents' association prepare the meals for the volunteers.
In Tarapoto: During the free days in Tarapoto we only provide breakfast. It is easy to eat in one of the numerous restaurants. You can choose from small local restaurants, but you will also find plenty of Western-oriented restaurants (even pizzerias). This provides you the opportunity to eat what you like.
Recommended: You won't find a more typical meal in the Amazon than the "juane". The juane is mainly eaten during the feast of San Juan. It usually consists of rice containing chicken, olives and egg, all wrapped in the leaf of the bijao in which everything is cooked. In addition, there are many different banana dishes such as maduro frito (fried banana), patacón (crushed slices of banana and then fried) and tacacho (a ball where also processed meat). If you get the chance, you should definitely also try chonta. It's the heart of a palm served as tagliatelli. You should definitely taste the local chorizo and cesina (dried pork). It can be found prepared in many different ways.
Volunteering in Peru is more than just work. You cannot compare voluntary work to a full-time day job. You will have full say in your hours and have enough time to explore the area together with the other volunteers.
Free time in San Martin region
The people of Tarapoto have a good excuse to take life easy. Quietly baking in the heat of the jungle sun, the city and its inhabitants do their business in a very relaxed way, buzzing around on motorcycles and motorcycle taxis. You will find few cars, but motorbikes and motorcycle taxis are difficult to miss.
 
Due to the lack of in-your-face promotion for tourist attractions, you sometimes actually wonder what to do. But when you dig a little deeper, you will find a wonderful mix of cultural and natural sights.
 
We will provide enough tourist information and your time will be far too short to even get bored. Some eye catchers:
 
Museo Regional Universidad Nacional de San Martin –
Tarapoto's small and somewhat peculiar museum is located just on the main square on Jr. Maynas 177 (under the Universidad Nacional building).
 
Tabacalera del Oriente
A must-see destination for cigar worshipers. The Tabacalera del Oriente is the most overlooked jewel in Tarapoto. Visit early in the morning to see the 30 or so female workers rolling the cigars by hand.
 
Petroglyphs from Polish
Polish petroglyphs are 5 km from Tarapoto.
 
Waterfalls
In the hills and jungle around Tarapoto, there are also numerous waterfalls where you can go for a refreshing swim. The waterfall of Ahuashiyacu in particular is very popular. They are a 20-minute drive from Tarapoto.
 
Sauce
The Sauce lagoon, also known as the blue lake, is a 2.5-hour drive from Tarapoto and is well worth a day's visit. The lake has a beautiful blue-green appearance. You can make a trip with a motor boat or take a beautiful walk.
 
Lamas
It's about a half an hour's drive from Tarpoto and is one of the oldest towns in the Peruvian rainforest. The locals usually still dress in a traditional and very colorful way. The beautiful "Mirador de la Cruz" is certainly worth a visit. About 5 km north of Lamas is the Chapawanki waterfall.
Besides the Machu Picchu & the Inca trail, you can find the Nazca lines (which you can fly over with small planes), the beautifully excavated ruins of Chan Chan and the Chachapoyas. Surfers can indulge in the sand dunes in Ica. Also, in the dizzying landscapes of the Colca canyon, you can admire the Condor up close. In Huaras you can go on a beautiful mountain hike and even put on the skis. There is always something for everyone and everything is located in breathtaking landscapes.
 
We also advise you to ask our coordinator for tips on how to experience life as a Peruvian.
Volunteering abroad does cost money and it is not our intention that the community you are going to help has to pay for this. If there was enough money to bear these costs, we would rather spend them on a local employees who understand the local culture and daily customs.
If you want to learn more about our transparent system, take a look at our transparency page.
Accommodation & Meals Cost
These costs, which you pay on site, are related to your stay in Peru such as your accommodation and meals. By paying locally, you are also sure that your contribution will end in Laos and will not stay behind at various "stations". The cost in Peru is only €80/week.

What is included?
Welcoming at Tarapoto airport;
Transport to the airport after volunteering;
Local costs and preparations for your stay;
All meals during the entire stay in Nueva Unión (working week);
Breakfast during your free days in Tarapoto;
Stay in a comfortable 'hostal' during your free time (2 nights a week);
Daily follow-up, guidance and cooperation with our local team.
Probably there are other expenses that you have to keep in mind. Below a brief summary of the most common possible costs:
International transfers;
Tranport from Lima to Tarapoto (approx. 105 EURO return), For your flight from Lima to Tarapoto, your mentor can advise and assist you;
Drinks;
Travel insurance;
Meals during the days off and public holidays;
Local transport from Tarapoto to Nueva Unión (approx. 8 EURO return);
For a maximum of 4 to 5 soles (€ 1.5 – 2) you get anywhere in Tarapoto.
Costs specific to leisure time;
Souvenirs;
Extra snacks;
Local SIM card – costs depending on your wishes.
any projects require a continuity of volunteers to create impact and we want to ensure sufficient inflow of volunteers to keep every project viable. Unfortunately volunteer recruitment comes with a costs such as marketing. The fundraising done by the organizations in our alliance are exclusively used for development projects in the countries mentioned on this website.
The alliance fee serves to bear the costs of the alliance's platform. We ask every participant a one-time alliance fee of € 130. This is a one-time contribution which you pay after being accepted for your first volunteer placement. After payment of this contribution you can do unlimited voluntary work in any project in the future (if there is availability and you meet the set requirements for that project).
As a member, we always inform you as soon as new projects are added in our alliance.
What is your alliance fee used for?
Despite of our good intentions, we are also obliged to pay taxes. After this the balance is used for: annual costs for the management of our platform such as the maintenance of the registration database, administration …. We try to minimize these costs, but we have to cover them. We also have a great looking website that needs to be maintained and kept up-to-date.
Promotion costs money and we want to be visible as much as possible so we find enough volunteers for each project. Your contribution is also used for promotions on various media, printed materials etc. Besides this we also try to attend as many fairs & network events as possible.
We are only volunteers and put a lot of effort in our projects but also in your preperation. In the past we had volunteers not showing up which is very disturbing to our team and local communities that we support. We also view this contribution as a form of guarantee that you will actually fulfill your commitment.
You can read more at our transparency page.
We will not let you leave without a thorough preparation. We have a detailed system, so you can sleep on both ears and leave with peace of mind. Once you have been accepted and everything has been put in order, you can count on the guidance of our experts.
 
As soon as you applied and you are accepted to volunteer we start with your preparation. You can already read a lot on this website, besides this we also prepare you through other channels. Once in the field you also can rely on our local team.
Volunteering abroad will have an impact on you but also on the local community. We think it's very important, that you as a volunteer are aware about what to expect.  So you can start prepared with your volunteering experience. When you are accepted as a volunteer and you confirmed from your side, you will receive the access codes for our secured volunteer page. At this page you can read all information which is important for your preparation, Such as information about your project, accommodation, How to apply for your visa, a packing list, a complete chapter about cultural differences and much more …
You will be assigned a mentor who you can contact for any help or needed advice. Our mentors are members of our alliance and have years of experience in the projects we support. This system ensures that you receive good guidance from VAA.
In our alliance we always ask the volunteers to do volunteer work by week. At some projects it is already possible to volunteer for one week, but it is also be possible that a minimum placement of a couple of months is required for certain projects. You can read this at the projects chapter of the chosen destination.
When Can I Arrive In Peru
In Peru you choose which day you arrive.
What is the minimum period to volunteer in Peru?
You can already volunteer in Peru for 2 weeks.